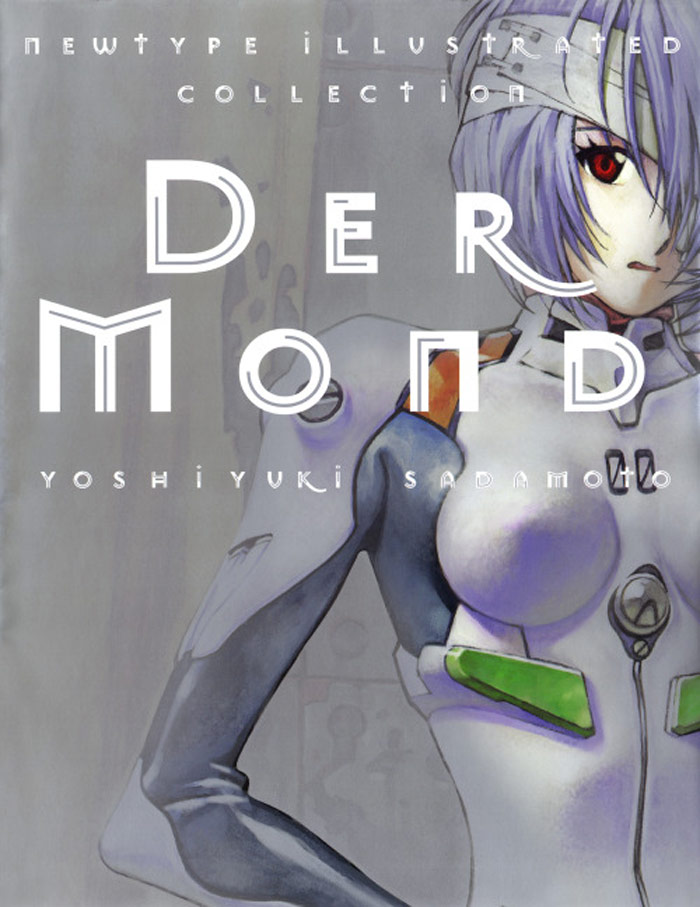 Beyond the Art of EVANGELION
Every anime fan knows that character design is one of the most important attributes of any movie or television series. It sets the artistic tone and, at a glance, helps establish the personalities that will drive the storyline.
Some talented artists have made a career of this specialty, becoming household names among legions of dedicated otaku.
One such artist is Yoshiyuki Sadamoto, character designer of GAINAX projects such as Neon Genesis Evangelion, Nadia – The Secret of Blue Water and The Wings of Honneamise. 
Sadamoto's designs — among the most recognizable and popular in all of anime — are the focus of Der Mond, an imprint of the Newtype Illustrated Collection by Kadokawa Shoten Publishing that was released in the first quarter of 2000.
In addition to more than 90 pages of full-color artwork from his various projects, the art book contains a list of works, detailing their origin, purpose and method of composition — all in Japanese.
Luckily, for English-speaking fans, Viz Communications plans a U.S. release of this significant collection in the very near future. The domestic release will mirror the eastern editions, presenting the artwork in its original 10 inch by 13 inch size and in the traditional Japanese right-to-left format. (All for an affordable $29.95 price in the U.S.!)
Der Mond includes more than 70 pages of full-color art from Sadamoto's most-recognized work, Neon Genesis Evangelion. If you are an Eva-fanatic, this one's for you.
The characters of Shinji, Rei, Asuka and Misato (with PenPen) are each treated to their own section featuring some artwork fans will recognize from a variety of sources, including the King Records' Evangelion soundtracks, Viz's U.S. comic book and graphic novel releases and more. A six-page, full-color manga segment is included, along with master art for the Cardass Masters trading cards, poster art and the original art used on the packaging for the Japanese movie and laser disc releases. The final, Eva-related touch is the inclusion of drafts from Sadamoto's manga treatment of Evangelion and of the original series character designs for Shinji, Misato, Asuka, Rei, Toji, Kensuke, Ritsuko and Gendo.
The vast majority of these illustrations have not been available in the U.S., and many have not been published in the bulk of the Newtype Evangelion art books some fans have been able to import. (Most of these books feature primarily cel "stills" from the actual production and do not have an emphasis on the original, Sadamoto art.)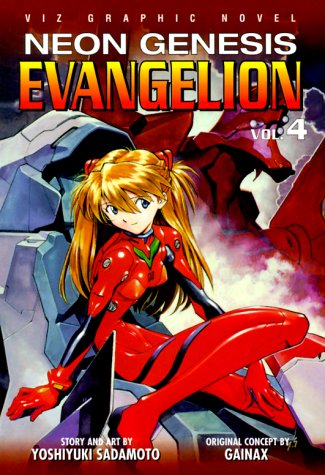 However, the real fun of Der Mond is the discovery of Sadamoto's other, non-Eva works.
Poster-style depictions of the characters from Fatal Fury and Wings of Honneamise are followed by lovingly-detailed illustrations of Nadia. Miscellaneous illustrations he has done for Animage and Young Jump magazines also make an appearance, alongside promotional art for the GAINAX project Love and Pop and distinctive CD cover art, including one piece Eric Clapton fans will recognize — the cover of the 1998 release Pilgrim. Also intriguing is a series of concept pieces for the long-awaited (since 1992) GAINAX project Blue Uru, which are, in turn, atmospheric, brooding and movement-filled.
The book presents Yoshiyuki Sadamoto's diverse works with clear and detailed reproduction that does justice to the source material. Because it allows fans to revisit old favorites while introducing them to potential new discoveries, Der Mond is a significant collection that represents the best of where anime and manga have been and where they may be going.
More Info:
DER MOND © 2000 Yoshiyuki Sadamoto / Kadokawa Shoten Publishing Co., Ltd. All rights reserved. English edition available. DER MOND © 2001 Viz Communications, Inc.  All rights reserved.