Recent series SONG OF THE PHOENIX & SAMURAI GOURMET, plus finales of CIRCLE & MY GIRLFRIEND'S BOYFRIEND. (And J-drama updates!)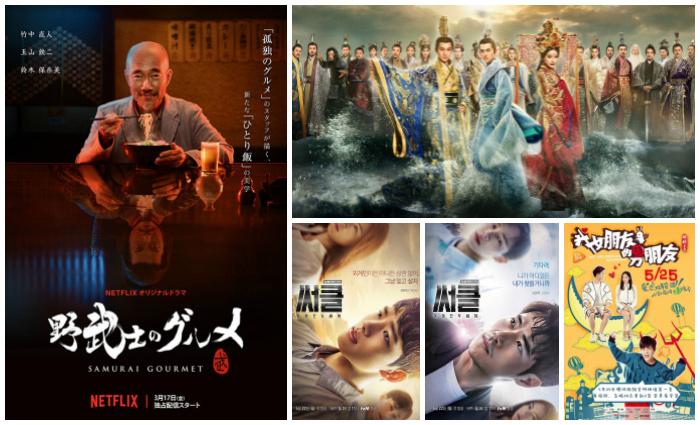 Quick links:
 What are you watching? 
My weekly watch list includes: Circle: Two Worlds Connected (finale!), Duel, Lookout, Ruler: Master of the Mask, Stranger (Secret Forest), Suspicious Partner (Love in Trouble), and White Nights (Night Light).  
June 26-July 2, 2017
Current Asian Drama Simulcasts
(Regular Release Schedule)
Premieres:
Samurai Gourmet (Japan)
Song of the Phoenix (China)
Finales:
Circle: Two Worlds Connected (South Korea)
Man to Man (South Korea)
My Girlfriend's Boyfriend (China)
My Only Love Song (South Korea)
In-Progress: 
All Kinds of Daughters-in-Law, a.k.a. Sisters-in-Law (South Korea)
Bad Thief, Good Thief (South Korea)
Band of Sisters, a.k.a. Sister Is Alive or Unni Is Alive (South Korea)
Duel (South Korea)
Father Is Strange (South Korea)
Fight My Way (South Korea)
Lookout (South Korea)
Love 'Til the End of Summer, a.k.a. Rush to the Dead Summer (China)
Love, Timeless (Taiwan)
Lovers in Bloom, a.k.a. The Rose of Sharon Has Bloomed (South Korea) 
Medalist Lawyer Heir (China)
My Sassy Girl 2017 (South Korea)
Ruler: Master of the Mask (South Korea)
Secret Forest, a.k.a. Stranger or Forest of Secrets (South Korea)
Super Family 2017 (South Korea)
Suspicious Partner, a.k.a. Love in Trouble (South Korea)
Teacher Oh Soon-nam (South Korea)
The Best Hit (South Korea)
The Price, a.k.a. Daisho (Japan)
Unknown Woman (South Korea)
Woman of Dignity (South Korea)
You Are Too Much (South Korea)
Current Asian Drama Simulcasts
(Irregular Release Schedule)
In-Progress, Irregular Schedule: 
April Star (China)
Queen for Seven Days (South Korea)
Sparrow (China)
The Masked Lover (Taiwan)
The Perfect Couple (China) 
The Perfect Match (Taiwan)
Upcoming Drama Simulcasts
Confirmed Coming Soon:
Addicted (China)
Andante (South Korea)
Final Fantasy XIV: Dad of Light (Japan) > Addition!
Healing Master (China)
Million Yen Women (Japan) > Addition!
The Bride of the Water God 2017, a.k.a. The Bride of Habaek (South Korea)
The King Loves (South Korea)
Wednesday 3:30 PM (South Korea)
[Criteria for inclusion, why I only include streams that are legal/licensed for the U.S. (and Canada), and how to use this feature and its boards.]
See any mistakes, know of something I missed, or have a question? Please send me an email or connect with me via social media. (Thanks – and happy viewing!) ★