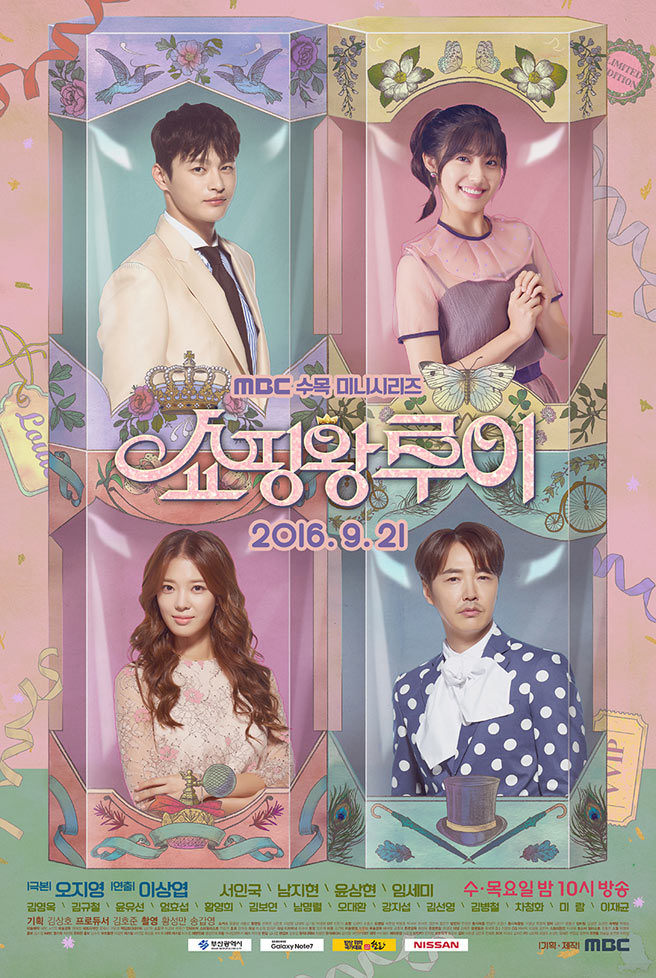 Riches to Rags to…?
Distribution expands for a quirky simulcast, plus several recent series are ready to marathon.
An amnesiac company heir goes from riches to rags – and gets a crash course in the concerns of everyday non-heirs – in the Korean comedy Shopping King Louie.
Seo In-guk (Squad 38) stars as the title character opposite Nam Ji-hyun (What Happens to My Family?) and a supporting cast that includes Yoon Sang-hyun (Ms. Temper and Nam Jung Gi), Im Se-mi (Goodbye Mr. Black), Kim Young-ok (Dear My Friends), Uhm Hyo-seop (Remember – A Son's War), and more.
The series finale of Fantastic airs this weekend, and the concluding episodes for both Second to Last Love and W – Two Worlds are also newly available.
See below for more about these and other shows with licensed streams and English subtitles.
More simulcasts w/ irregular release schedules: index | board
Completed simulcasts & new-to-streaming catalog titles: board
Upcoming Asian dramas with confirmed simulcasts: index

Additions: Entourage (South Korea); Goblin (South Korea); Stay With Me (China); and The Princess Wei Young (China).
Oct. 17-23, 2016
Premieres:
Shopping King Louie (South Korea)
Finales: 
Fantastic (South Korea)
Second to Last Love (South Korea)
W – Two Worlds (South Korea)
Whirlwind Girl 2 (China)
In-Progress:
Go Ho's Starry Night (China)
Ice Fantasy (China)
Jealousy Incarnate (South Korea)
Let's Drink, a.k.a. Drinking Solo (South Korea)
Moon Lovers: Scarlet Heart Ryeo (South Korea)
Moonlight Drawn by Clouds (South Korea)
One Percent of Something (South Korea)
Our Gab Soon (South Korea)
Proud of Love (China) 
Secrets of Women (South Korea)
The K2 (South Korea)
The Unusual Family, a.k.a. Strange Family (South Korea)
Ultraman Orb (Japan)
In-Progress, Irregular Schedule:
Customize Happiness (China)
Cupid Above (China)
Dating Factory (China)
Laurel Tree Tailors (South Korea)
Love By Design (Taiwan)
Metro of Love (Taiwan)
On the Way to the Airport (South Korea)
Prince of Wolf (Taiwan)
Rookie Agent Rouge (China)
Singing All Along (China)
Still Lala, a.k.a. Hi DuLaLa (China)
Swimming Battle (Taiwan)
The Flower in Prison (South Korea)
The Love Song (Taiwan)
Warm Love and War of Male (China)
Woman With a Suitcase (South Korea)
Confirmed Coming Soon:
Crime Scene Investigation Center (Taiwan)
Entourage (South Korea)
Goblin (South Korea)
Great Inventors (China)
Hwarang: The Beginning (South Korea)
My Wife's Having an Affair This Week (South Korea)
Saimdang: Light's Diary (South Korea)
Stay With Me (China)
The Legend of the Blue Sea (South Korea)
The Princess Weiyoung (China)
[Criteria for inclusion, why I only include streams that are legal/licensed for the U.S. (and Canada), and how to use this feature and its board.]
See any mistakes, know of something I missed, or have a question? Please send me an email or connect with me via social media. (Thanks – and happy viewing!) ★