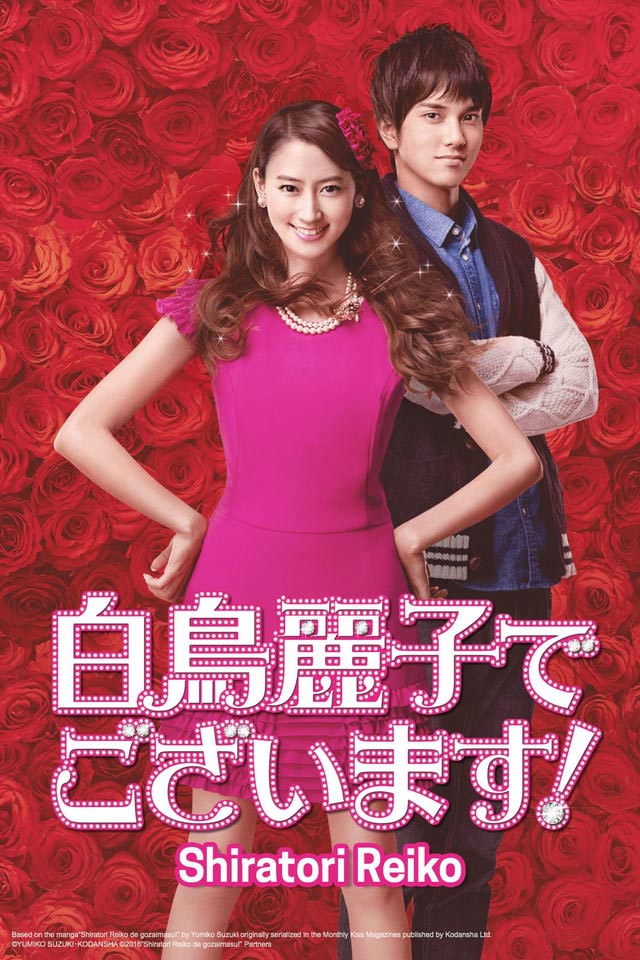 Manga & Pop (Idols!)
A beloved rom-com comic receives an all-new adaptation with an idol-filled cast, plus Korean and Chinese web dramas and a mainland daily drama also join the simulcast lists. Let's go!
Mayuko Kawakita (Netflix's Atelier) stars as the title character in Shiratori Reiko, the latest live-action adaptation of Yumiko Suzuki's classic shoujo manga (girls' comic). 
This new 10-episode simulcast will follow its well-to-do heroine as she pursues her childhood crush from the countryside to Tokyo, where he is attending college.
Boys and Men's Masaru Mizuno portrays "Tetsuya," the object of Reiko's affection, and his bandmates fill supporting roles throughout the series. Kawakita is also set to headline the planned 2016 film adaptation. [Source: Anime News Network.]
Of note: The production company behind Shiratori Reiko also handled the 2013-2015 Itazura na Kiss J-drama adaptations. If you enjoyed the two Mischievous Kiss: Love in Tokyo series, you'll definitely want to tag along on Reiko's adventures.
The web drama Missing Korea takes place in a near future where the two Koreas are on (relatively) friendly terms with each other. But significant cultural differences remain.
To bridge the gap, they decide to hold a beauty pageant with contestants from both the North and the South.
What could possibly go wrong? (Probably a lot more than they think.)
This fish-out-of-water comedy stars 2NE1's Sandara Park (We Broke Up) opposite Kim Jeong-hoon (I Need Romance, Princess Hours).
Two new Chinese dramas are available in their entirety with English subtitles.
Beautiful Secret is a showbiz-set romantic melodrama starring Victoria Song of K-pop group f(x), Peter Ho (Lee Jun Kai), Wei Qian Xiang (Prince of Lan Ling), and Ivy Shao (When I See You Again).
And young professionals and students-turned-roommates face life's ups and downs together in the romantic comedy Rainbow Family, Season 2.
Mobster comedy Sweet, Savage Family also recently finished its broadcast run.
See below for more about these and other shows with licensed streams and English subtitles.
More simulcasts w/ irregular release schedules: index | board
Completed simulcasts & new-to-streaming catalog titles: board
Upcoming Asian dramas with confirmed simulcasts: index

Additions: Shia Wa Se (Taiwan).
January 25-31, 2016
Premieres:
Beautiful Secret (China)
Missing Korea (South Korea)
Rainbow Family, Season 2 (China)
Shiratori Reiko (Japan)
Finales:
Detective Alice (South Korea)
Sweet, Savage Family (South Korea)
In-Progress:
A Bird That Doesn't Sing (South Korea)
All About My Mom (South Korea)
All Is Well (South Korea)
Bromance (Taiwan)
Cheese in the Trap (South Korea)
High-End Crush (South Korea)
Imaginary Cat (South Korea)
Madame Antoine (South Korea)
Marry Me or Not? (Taiwan)
Moorim School: Saga of the Brave (South Korea)
Neighborhood Hero (South Korea)
Puck! (South Korea)
Remember – A Son's War (South Korea)
Signal (South Korea)
Six Flying Dragons (South Korea)
Sweet Home, Sweet Honey (South Korea)
Wakako-Zake, Season 2 (Japan)

In-Progress, Irregular Schedule:
After the Rain (Taiwan)
Back in Time: Long Time, No See (China)
Back to 1989 (Taiwan)
Be With Me (Taiwan)
Cupid Above (China)
Dating Factory (China)
Detective Sweet (China)
Glamorous Temptation (South Korea)
Good Times (China)
I Have a Lover (South Korea)
Majisuka Gakuen 4 (Japan)
My Daughter, Geum Sa-Wol (South Korea)
My Little Lover – Minami-kun no Koibito (Japan)
One More Happy Ending (South Korea)
Riders: Catch Tomorrow (South Korea)
Taste of Love (Taiwan)
The Legend of Qin (China)
The Merchant: Gaekju 2015 (South Korea)
Thirty Something (Taiwan)
To the Dearest Intruder (Taiwan)
Confirmed Coming Soon:
Dear My Friends (South Korea)
Crime Scene Investigation Center (Taiwan)
Descendants of the Sun (South Korea)
Female Assassins in the Palace, a.k.a. Golden Hairpins in the Palace (China)
Goodbye, Mr. Black (South Korea)
Great Inventors (China)
Lightly, Ardently (South Korea)
Love Yun Ge From the Desert (China)
Pretty Wife (China)
The Legend of Zu (China)
Shia Wa Se (Taiwan)
Warm Love and War of Male (China)
[Criteria for inclusion, why I only include streams that are legal/licensed for the U.S. (and Canada), and how to use this feature and its board.]
See any mistakes, know of something I missed, or have a question? Please leave a note in the comments section below OR send me an email. (Thanks – and happy viewing!) ★