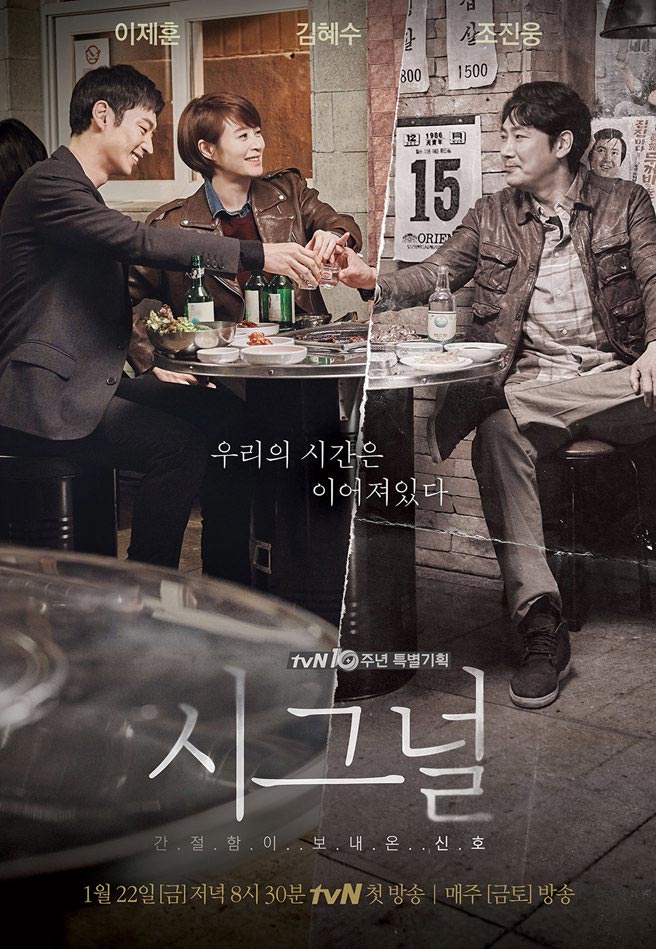 Enter the Cable Dramas + More!
Two high-profile cable series kick off their simulcasts this week, plus two recent web dramas and a special are newly available and completely subbed.
The Hwaseong serial murders terrorized 1980s South Korea and later inspired both the acclaimed film Memories of Murder and recent K-drama Gap-dong.
This infamous, unsolved case also serves as a jumping off point for the cable crime-thriller Signal, but Signal takes more of a supernatural-mystery-procedural approach.
Think Frequency by way of British TV series Life on Mars, as two present-day detectives on the cold-case squad find themselves conversing – by walkie-talkie and across the decades – with a detective from the past.
With a cast led Lee Je-hoon (Bleak Night; Architecture 101), Kim Hye-soo (Tazza: The High Rollers; The Thieves), and Cho Jin-woong (A Hard Day; Assassination), plus direction from Kim Won-suk (Misaeng: An Incomplete Life; Sungkyunkwan Scandal) and a screenplay by Kim Eun-hee (3 Days; Sign), this is one to watch.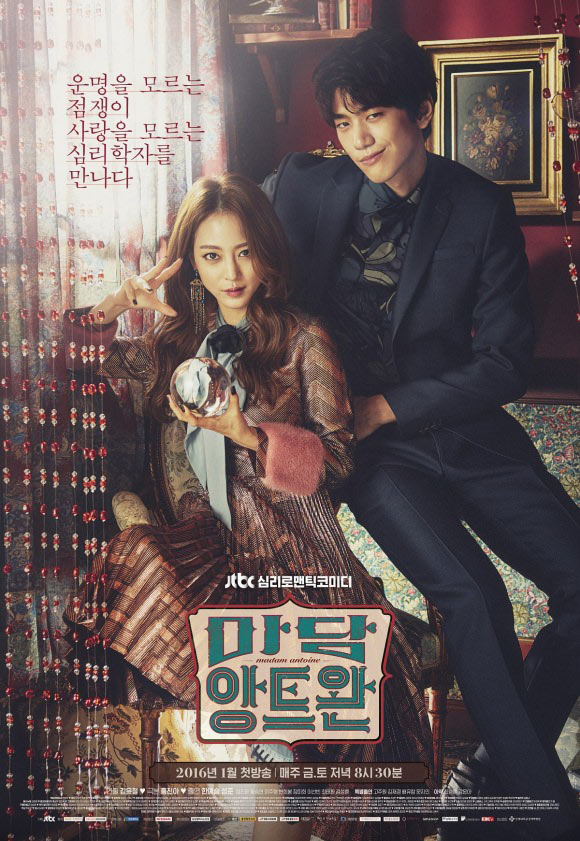 Madame Antoine pits a fortuneteller famous for her romantic insights against a skeptical psychologist who is determined to prove that both her and the idea of true love are bunk.
Han Ye-seul (Penny Pinchers; Couple or Trouble) stars as the title character opposite Sung Joon (I Need Romance 3; Can We Get Married?), with supporting turns by Jung Jin-woon (Marriage Not Dating; Dream High – Season 2), newcomer Lee Joo-hyung, and more.
Zany comedy is Han Ye-seul's strength, and when she has the right role, watch out.
Madame Antoine has the potential to be seriously fun.
In Puck!, Lee Kwang-soo (It's Okay, That's Love; Running Man) plays against type as an enforcer for a loan shark. However, his character does so reluctantly: It's the only way he can earn "forgiveness" for his ex-wife's enormous debt. When he is sent to collect from a slippery ice hockey coach, he goes undercover and joins the team. Loan sharks on ice! (Or perhaps, Giraffe on ice?) Both episodes of this K-drama special are now available with English subtitles.
Korean web dramas High-End Crush and Imaginary Cat – headlined by Jung Il-woo (The Night Watchman's Journal) and Yoo Seung-ho (Remember), respectively – are now available with English subtitles.
Cable vigilante drama Neighborhood Hero also premieres this weekend and will be available on Monday.
See below for more about these and other shows with licensed streams and English subtitles.
More simulcasts w/ irregular release schedules: index | board
Completed simulcasts & new-to-streaming catalog titles: board
Upcoming Asian dramas with confirmed simulcasts: index

Additions: One More Happy Ending (South Korea), The Legend of Zu (China).
January 18-24, 2016
Premieres:
High-End Crush (South Korea)
Imaginary Cat (South Korea)
Madame Antoine (South Korea)
Neighborhood Hero (South Korea)
Puck! (South Korea)
Signal (South Korea)
Finales:
Love Me If You Dare (China)
In-Progress:
A Bird That Doesn't Sing (South Korea)
All About My Mom (South Korea)
All Is Well (South Korea)
Bromance (Taiwan)
Cheese in the Trap (South Korea)
Detective Alice (South Korea)
Marry Me or Not? (Taiwan)
Moorim School: Saga of the Brave (South Korea)
Remember – A Son's War (South Korea)
Six Flying Dragons (South Korea)
Sweet Home, Sweet Honey (South Korea)
Sweet, Savage Family (South Korea)
Wakako-Zake, Season 2 (Japan)

In-Progress, Irregular Schedule:
After the Rain (Taiwan)
Be With Me (Taiwan)
Beautiful Secret (China)
Cupid Above (China)
Dating Factory (China)
Detective Sweet (China)
Glamorous Temptation (South Korea)
Good Times (China)
I Have a Lover (South Korea)
Majisuka Gakuen 4 (Japan)
My Daughter, Geum Sa-Wol (South Korea)
My Little Lover – Minami-kun no Koibito (Japan)
Rainbow Family, Season 2 (China)
Riders: Catch Tomorrow (South Korea)
Taste of Love (Taiwan)
The Legend of Qin (China)
The Merchant: Gaekju 2015 (South Korea)
Thirty Something (Taiwan)
To the Dearest Intruder (Taiwan)
Confirmed Coming Soon:
Back in Time: Long Time, No See (China)
Dear My Friends (South Korea)
Crime Scene Investigation Center (Taiwan)
Descendants of the Sun (South Korea)
Female Assassins in the Palace, a.k.a. Golden Hairpins in the Palace (China)
Goodbye, Mr. Black (South Korea)
Great Inventors (China)
Lightly, Ardently (South Korea)
Love Yun Ge From the Desert (China)
Missing Korea (South Korea)
One More Happy Ending (South Korea)
Pretty Wife (China)
The Legend of Zu (China)
Warm Love and War of Male (China)
[Criteria for inclusion, why I only include streams that are legal/licensed for the U.S. (and Canada), and how to use this feature and its board.]
See any mistakes, know of something I missed, or have a question? Please leave a note in the comments section below OR send me an email. (Thanks – and happy viewing!) ★